LEADERS FREE
LEADERS FREEは、1ヶ月の2剤抗血小板療法を受けた出血リスクの高い患者2466例を対象に、BioFreedom™薬剤コーテッドステントとGazelle™ベアメタルステントを比較する前向き二重盲検無作為化(1:1)臨床試験です。
その結果、1ヶ月間のDAPTを併用した場合、1年後の安全性と有効性の主要評価項目に関して、BioFreedom™薬剤コーテッドステントがGazelle™ベアメタルステントより優れていることが実証されました。
BioFreedom™ Ultraは、BioFreedom™のテクノロジーを引き継いでいます。
LEADERS FREE, at 1 year proved that BioFreedom™ is the only active stent with 1 month
DAPT that demonstrated significantly superior outcomes to
BMS in High Bleeding Risk Patients11. NEJM (October 2015)
LEADERS FREE 2 year follow-up maintains that BioFreedom™ and 1 month DAPT followed
by SAPT alone should be the treatment strategy of choice for
HBR patients undergoing PCI. JACC (January 2017)
Polymer-free Biolimus-A9 coated thin strut stents for
patientsat high bleeding risk 1-year results from the LEADERSFREE III study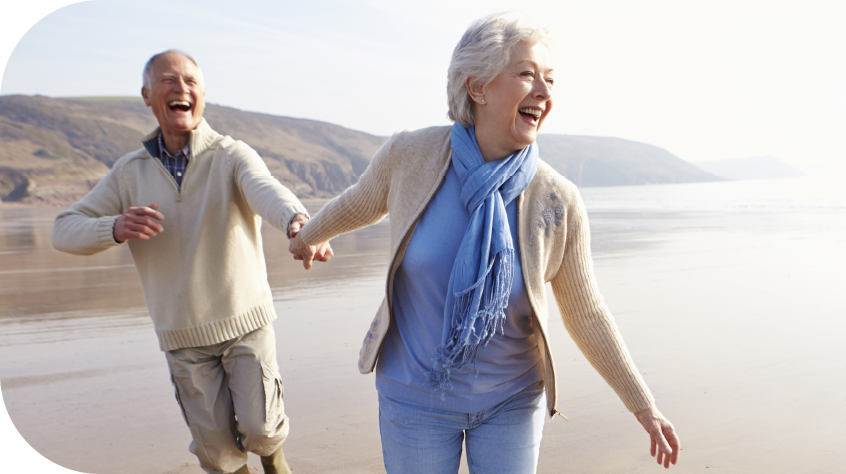 Trial design and
unique HBR patients^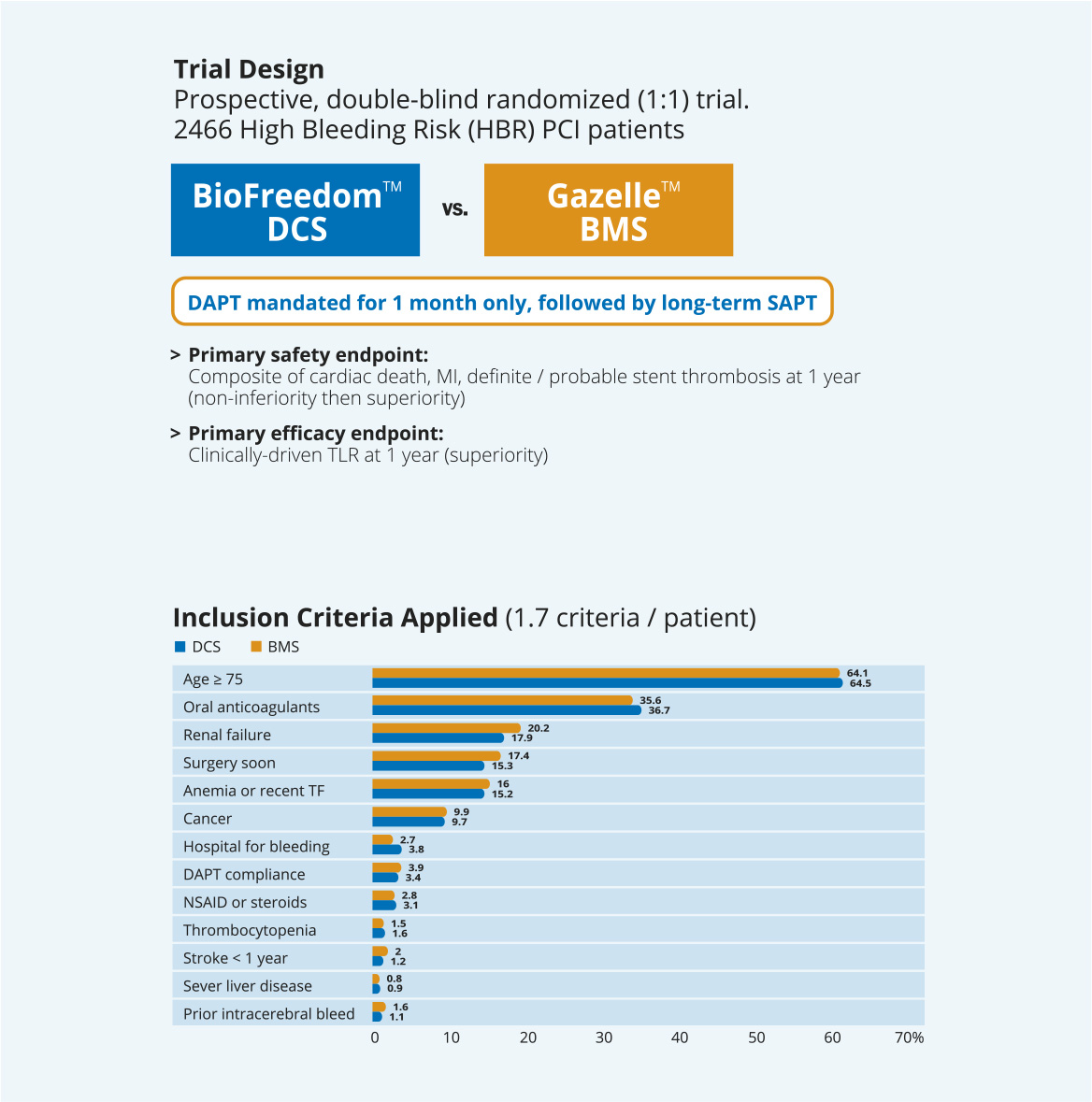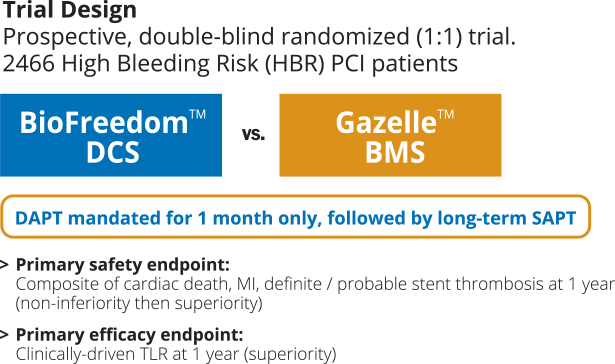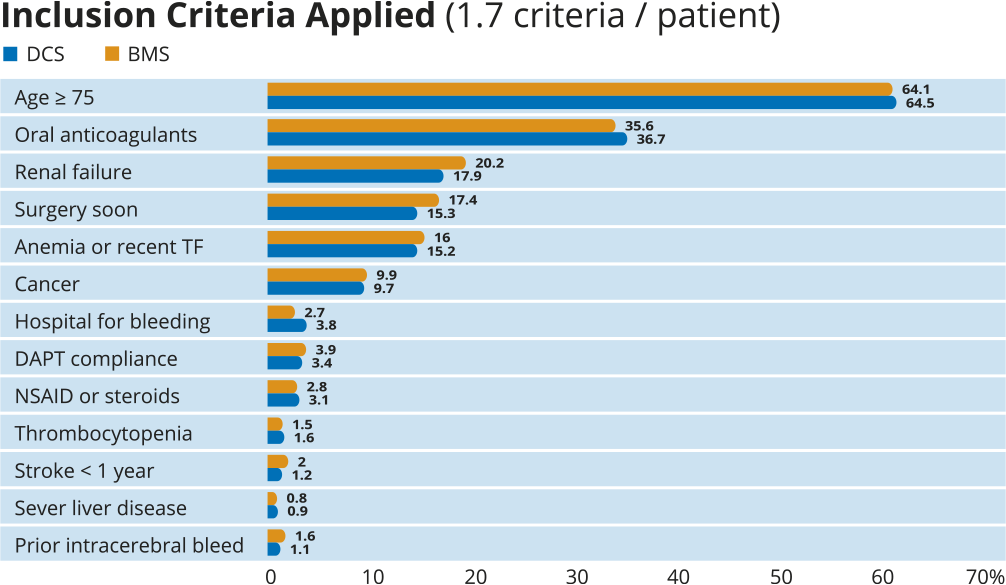 LEADERS FREE - 1 year follow-up:
BioFreedom™ is significantly
safer and more efficacious than a BMS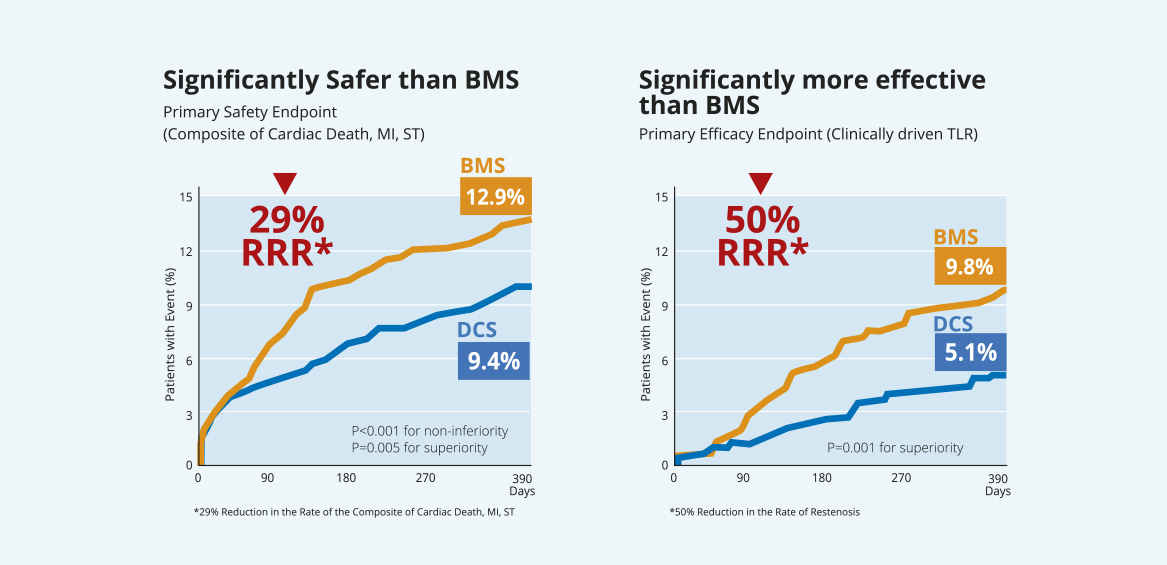 LEADERS FREE is the first randomized clinical trial dedicated to HBR patients who received 1 month of DAPT followed by single antiplatelet therapy
Such patients are often excluded from stent and drug trials, constitute a rapidly growing proportion of PCI candidates and suffer high event rates
Together with an ultra short one-month only DAPT course, the use of BioFreedom™ (a Biolimus A9™ polymer and carrier free DCS) was both significantly safer and
more effective than a control BMS in HBR patients.
LEADERS FREE -
Pre-specified ACS subgroup -
Even greater safety and efficacy than
the general LF population
The pre-specified Acute Coronary Syndrome sub-group of the LEADERS FREE trial was presented as a late breaking clinical trial at Euro PCR 2016 by Dr Christoph K. Naber and published13.

This sub-group analysis reinforces the benefit of the BioFreedom™ DCS vs BMS in HBR patients. The improvement in safety and efficacy achieved with BioFreedom™ is even greater in the high risk HBR ACS patient population.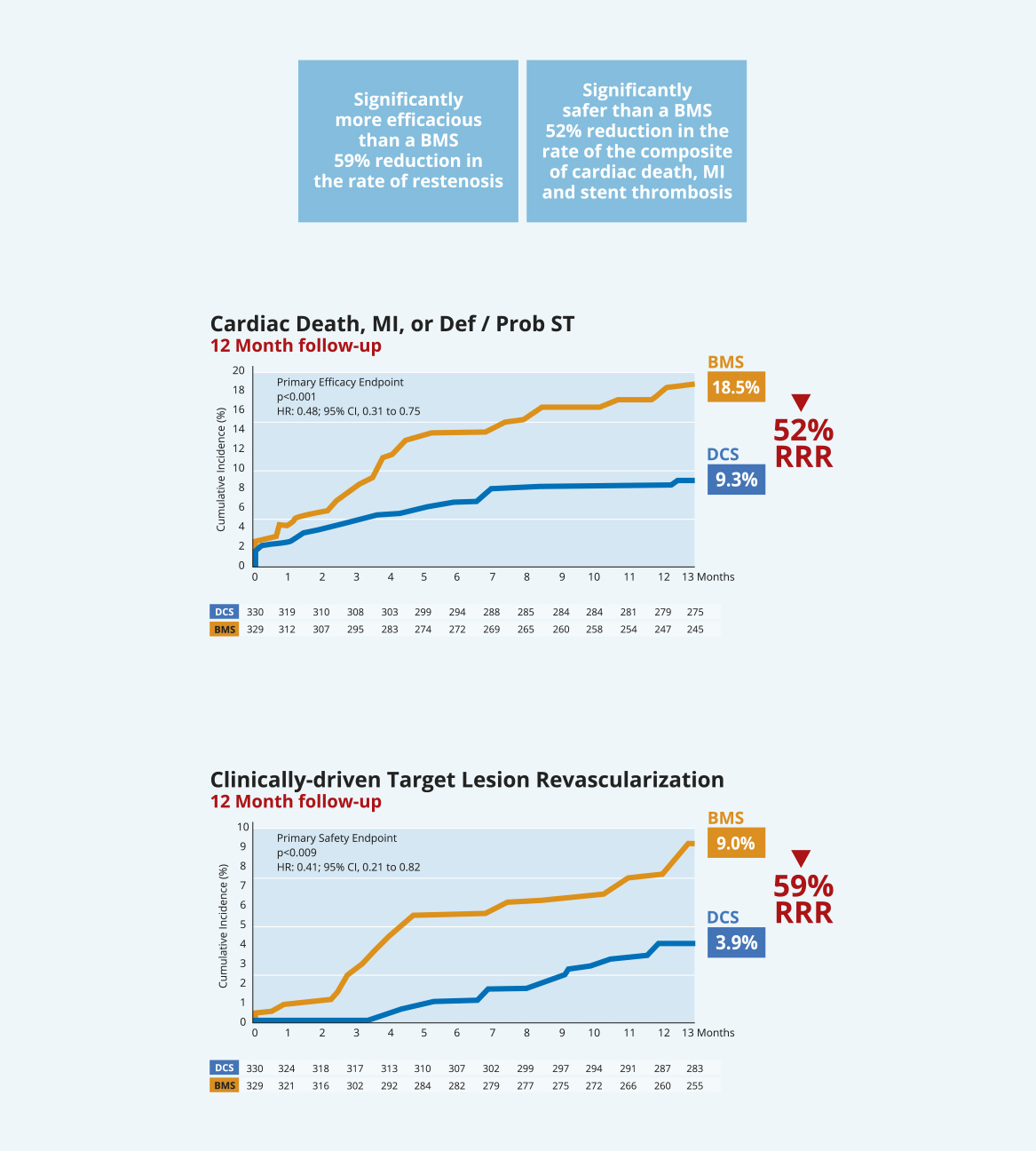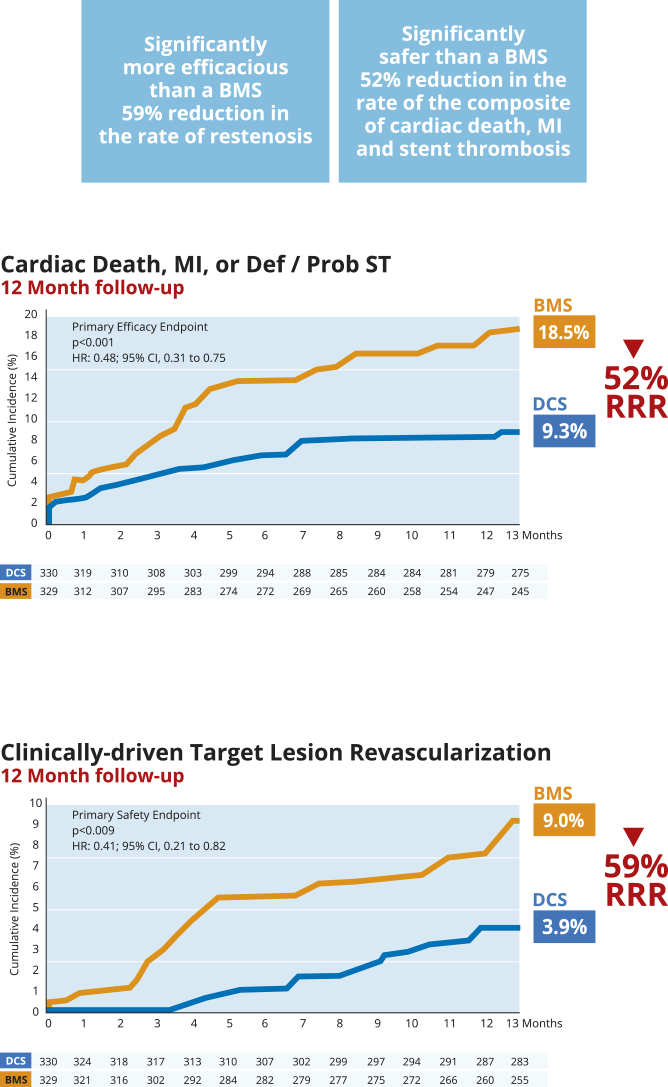 LEADERS FREE - 2 years:
Safety and Efficacy preserved
High Bleeding Risk patients:
safety and efficacy benefits of BioFreedom™ Drug-Coated Stent over BMS are
maintained at two years14.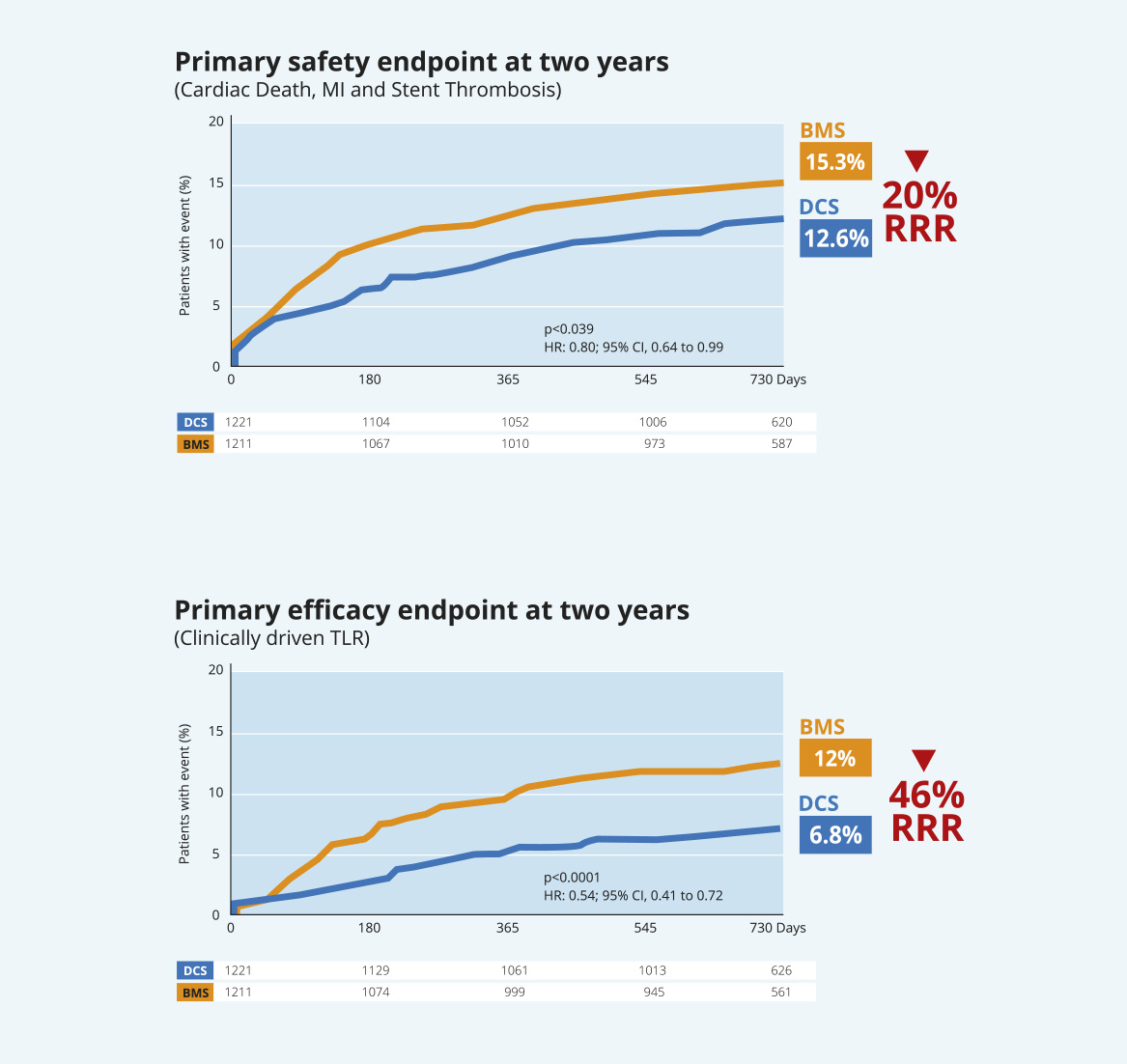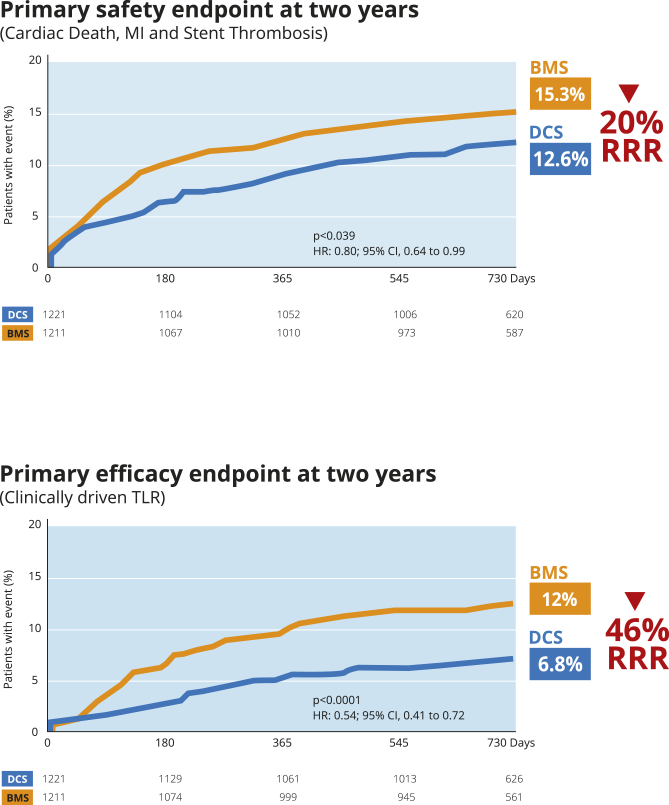 LEADERS FREE: Two-Year Outcomes of High Bleeding Risk Patients after Polymer-Free Drug-Coated stents14
BioFreedom™ is the only active stent with CE mark for ultra-short 1 month DAPT in High Bleeding Risk(HBR) patients,
supported by clinical data from a double-blind randomized controlled trial.
LEADERS FREE II -
Safety and Efficacy in
a North American population
Reproducibility of LEADERS FREE findings
Safety of DCS with 30 day DAPT in HBR patients15
Effectiveness of DCS with 30 day DAPT in HBR patients15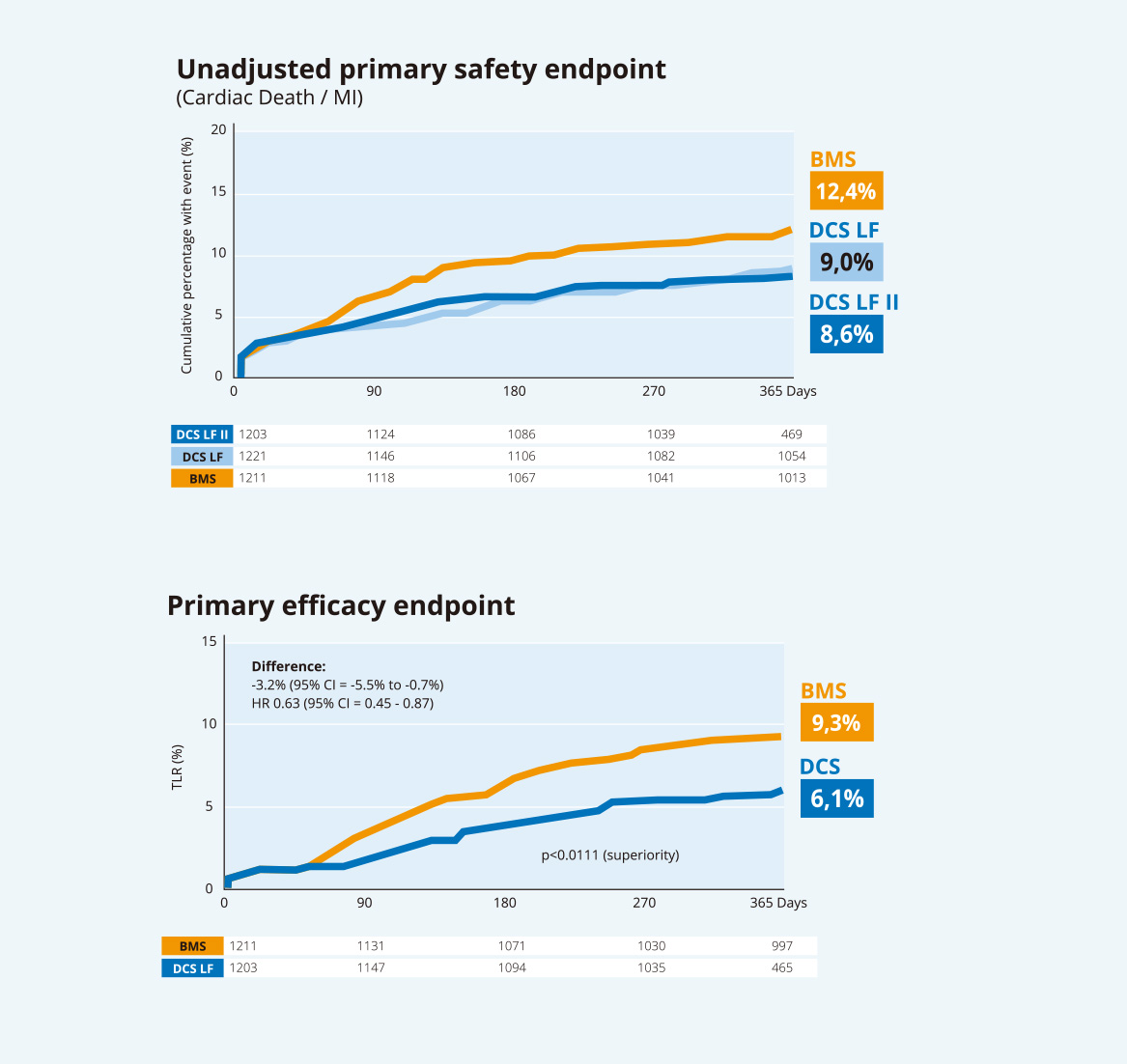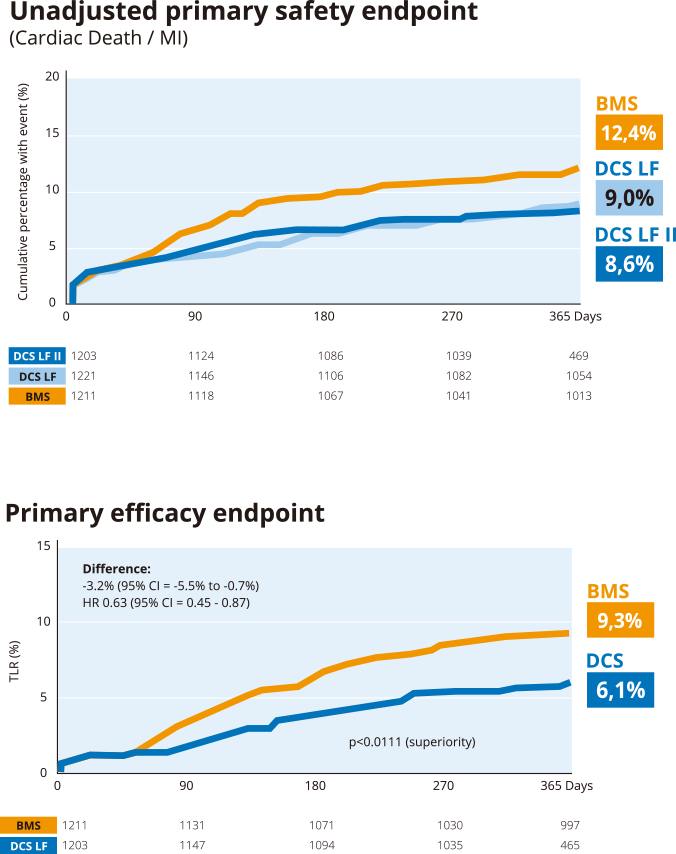 LEADERS FREE III
CoCr DCS non-inferior to StS DCS for safety16
CoCR DCS superior to BMS for efficacy16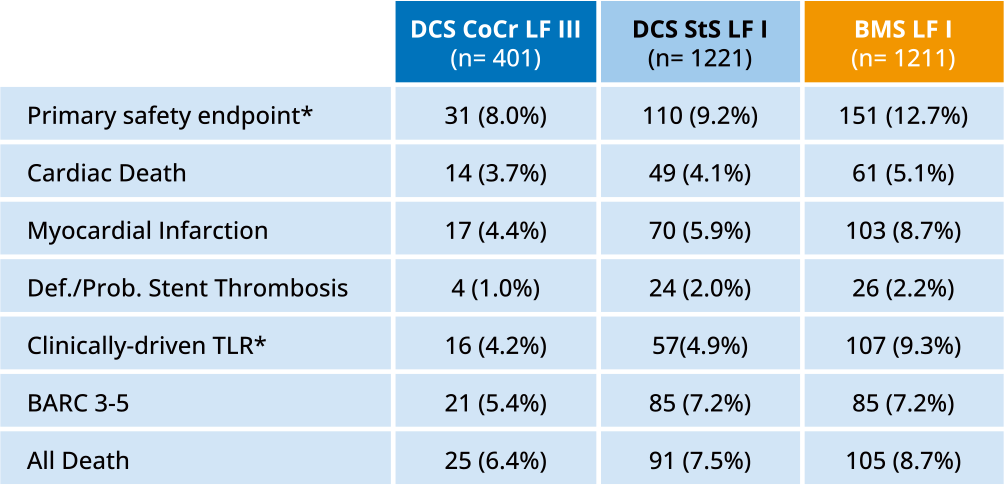 11881-000-EN - Rev.03 + 11556-000-EN – Rev.01 + 11697-000-EN – Rev.01

BIOFREEDOM™
FAMILY CLINICAL PROGRAM
BioFreedom™ - Company Managed Trials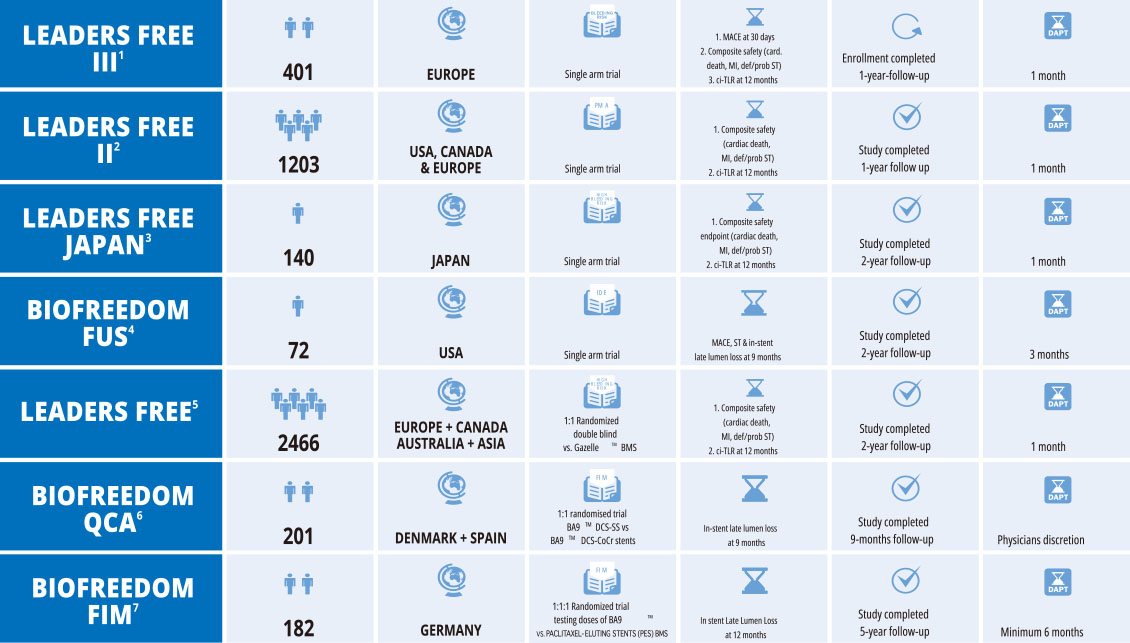 11855-000-EN_Rev.03d8
1. BioLimus-A9™ coated thin strut stents in High Bleeding Risk patients Oral abstract presentation Eberli R. PCR e-course 2020
2. Global Approach to High Bleeding Risk Patients With Polymer-Free Drug-Coated Coronary Stents: The LF II Study. M.W. Krucoff. Circ Cardiovasc Interv. 2020 Apr;13
3. ePoster Dr Saito Euro PCR 2017
4. Polymer-free Biolimus A9-coated stents in the treatment of de novo coronary lesions with short DAPT: 9-month angiographic and clinical follow-up of the prospective,
multicenter BioFreedom USA clinical trial Waksman R. et al CRM 18 (2017) 475–481
5. 2-Year Outcomes of High Bleeding Risk Patients After Polymer-Free Drug-Coated Stents. Garot P et al. JACC VOL.6 9, NO.2 , 2017
6. Main results of the BioFreedom QCA trial. Sabate M. PCR e-course 2020
7. Polymer-Free Biolimus A9-Coated Stents in the Treatment of De Novo Coronary Lesions 4- and 12-Month Angiographic Follow-Up and Final 5-Year Clinical Outcomes of the Prospective, Multicenter BioFreedom FIM Clinical Trial Costa R et al. J Am Coll Cardiol Intv 2016;9:51–64
BioFreedom™ - Physician Managed Trials
with support from Biosensors International*

11855-000-EN_Rev.03d8
* Biosensors has provided financial support for these PITs
6. Randomised Comparison of the Polymer-Free Biolimus-Coated BioFreedom Stent with the Ultrathin Strut Biodegradable Polymer Sirolimus-Eluting Stent in an All-comers Population
Treated with Percutaneous Coronary Intervention: The SORT OUT IX Trial. Published online Jensen L. 10.1161/CIRCULATIONAHA.119.0
7. Safety and efficacy of polymer-free Biolimus eluting stents in all-comer patients: The RUDI FREE study Sardella G, et al. EuroIn
8. Establishment of healing profile and neointimal transformation in the new polymer-free biolimus A9-coated coronary stent by lon
assessments: the EGO-BIOFREEDOM study Lee SWL et al. EuroIntervention. 2018 Sep 20;14(7):780-788
BioFreedom™ - Trials
with no Biosensors International involvement

11855-000-EN_Rev.03d8
9. Angiographic and clinical performance of polymer-free biolimus-eluting stent in patients with ST-segment elevation acute myocardial infarction
in a metropolitan public hospital: The BESAMI MUCHO study Gaspardone A Catheter Cardiovasc Interv.2017;00:1–8
10. Polymer-based or Polymer-free Stents in Patients at High Bleeding Risk Windecker S, et al. N Engl J Med. 12th February 2020; 1-11